Information about summer camps in Florence Italy, both day programs and sleepaway in the Tuscany region. We invite you to submit your program or camp review here.
Read Next: Summer Camps in Umbria
Arte al Sole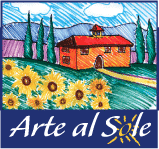 A series of summer camps in Florence Italy offering international children week-long sessions in the art, culture, and natural science of Tuscany. Day camp locations include Florence city center and Lucca.
website. Kids art workshops and custom educational programs also available.
Camp Britannia
Fun Activity Camp in English in Spineto (Siena)
June 14- July 12- one or two week option
BEC British European Center
Corso Italia, 6
tel. 02 864383
website. www.becasse.it
Canadian Island
English-speaking day and sleepover camps at an agriturismo campus just outside of Florence.
website.
https://www.canadianisland.com/en/
Centri Estivi dello Sport
Sports camp programs located near Florence in Barberino Tavernelle. Weekly programs from mid-June to mid-July
email.  info@polisportivatavarnelle.it
tel. +39 055 8050038
International School of Florence Summer Camp
Weekly day camps at the International School of Florence campus just outside of the city center. For kids ages 3-13 from late June through mid-July.
email. summercamp@isfitaly.org
tel. +39 055 2001515
website. https://www.isfitaly.org/experience/isf-summer-camp
Scuola Mimosa (in Lucca)
English-speaking bilingual summer day camps located just outside of the center of Lucca
tel. +39 0583 462019
email. info@scuolamimosa.it
website. https://www.scuolamimosa.it/campo-estivo-lingua-inglese-lucca/
See a great list of summer camps in Italy in a variety of regions by Mom in Italy