Information about summer camps in Florence Italy, both day programs and sleepaway in the Tuscany region. We invite you to submit your program or camp review here.
Arte al Sole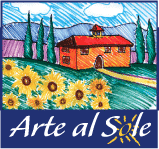 A series of summer camps in Florence and Tuscany offer international children  week-long sessions in the art, culture, and natural science of Tuscany. Day camp locations include Florence city center and Lucca.
website. Day workshops and custom educational programs also available.
Camp Britannia
Fun Activity Camp in English in Spineto (Siena)
June 14- July 12- one or two week option
BEC British European Center
Corso Italia, 6
tel. 02 864383
website. www.becasse.it
Creative Corner
Bilingual summer camp just outside of Florence offering a wide range of activities and excursions.
email. [email protected]
website. www.creativecorner.it
Canadian Island
English-speaking day and sleepover camps at an agriturismo campus just outside of Florence.
email. [email protected]
website. www.canadianisland.it
Festa Theater Camps
Bilingual day camps for ages 7-14 offering productions of Dracula and the Three Musketeers
Dracula – June 14-18 & June 28-July 2 9:00 a.m.-1:00 p.m.
Three Musketeers – July 12-16 9:00 a.m.-1:00 p.m.
Evangelical Methodist Church
Via de'Benci 9
50121 Florence
tel. 334 80 04 624
email. [email protected]
website. www.festatheatre.com
Lunae Viaggi
Summer and winter camps for ages 8-13 in Tuscany, Abruzzo, Lazio, Piedmont and Sardinia; variety of programs including Art and Drama
tel. 02 48194188
email. [email protected]
website. www.lunaeviaggi.it
Super Camp
An arts and science full-board camp in San Faustino June 29-July 6, 2015, for middle school students ages 10-13 designed to boost self confidence and inspire kids to reach their fullest potential