Family Guide to Perugia and Umbria With Kids
If you're planning a visit or an extended stay to Umbria with kids, ItaliaKids has all the information you need to plan for your holiday or family life. Discover great events, childcare, hotels, activities, restaurants, and more.
---
Featured Sponsor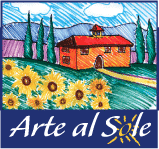 The Arte al Sole kids summer day camp programs offer 4 weeks of family fun at the Colle San Paolo agriturismo in Panicale, Umbria, the perfect base for a family holiday in Umbria. Parents can explore nearby sites in Umbria and Tuscany while the kids enjoy fun with their peers learning about the ancient and medieval history and culture of the area, as well as its cuisine. New for this year, there is now a "Soccer al Sole" day camp program in July, a sports and language week with soccer skills in the morning run by local Italian coaches and Italian language and culture activities in the afternoon for kids.