Family Guide to Genoa and Liguria With Kids
If you're planning a family trip to Genoa and Liguria with kids, discover great events, childcare, hotels, activities and more on Italiakids. From family-friendly hotels, to how to best visit Cinque Terre with Kids, to unique local activities for getting to know this abundant region, explore our family resources for visiting Liguria with Kids!
____________________________________________________________________________________________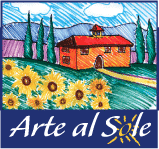 Lucca Summer Kids Program– Lucca's array of wonderfully intact historical sites makes it a must-see stop on any Tuscan itinerary and a perfect family-friendly location for the Arte al Sole kids arts and cultural activity in Tuscany. Lucca's historic center, with medieval towers and nearly 100 churches, is completely enclosed by its famous Renaissance walls, a lively and safe pedestrian city perfect for walking, biking, shopping, and renowned dining. Lucca makes a nice base for visiting Pisa, Florence, the Tuscan coast, and the scenic Garfagnana region to the north. The Lucca hills boast the regional olive and wine road, running from Lucca to the hilltown of Montecarlo. The city is abuzz with concerts and events that draw locals and tourists alike during the summer.