Tuscany is an enchanting region in Italy that offers a perfect blend of culture, history, and natural beauty. Tuscany is one of the biggest provinces in Italy. When planning a family vacation to Tuscany, it's important to choose the right location to stay with your kids to ensure there is a range of kid-friendly activities and amenities, such as shopping, close enough to be convenient. From charming hilltop towns to seaside resorts, we've put together a guide to help you decide where to stay in Tuscany with kids.
The Val d'Orcia
The Val d'Orcia is a picturesque area in southern Tuscany that is one of our favorite areas for families with children. This area is known for its rolling hills, vineyards, and charming medieval towns. Kids will love exploring the winding streets of towns like Pienza, Montepulciano and Montalcino, and parents will appreciate the region's famous wine and food. The Val d'Orcia is also home to several natural hot springs. There are family-friendly bike trails and hiking paths, as well as fabulous farm visits. Visit a pecorino cheese-making farm, or introduce the kids to the wonders of olive oil. The Abbey of San Galgano is another magical family-friendly site to visit in Tuscany, where the legendary true sword in the stone myth is said to have originated.
One of our favorite places to stay in the Val d'Orcia:
Podere Spedalone – An agriturismo with a full farm experience, run by a family passionate about the land.
Florence and the Chianti Region
Florence is a must-visit destination for families traveling to Tuscany. The city is full of history, art, and culture, and there are plenty of activities to keep kids entertained. Visit the Uffizi Gallery to see famous works of art, climb to the top of the Duomo for stunning views of the city, try a kids art workshop in Florence, or stroll through the Boboli Gardens. Outside of Florence, families can explore the Chianti region, known for its majestic countryside and famous vineyards. The town of San Casciano Val di Pese is a great base for exploring the area, with plenty of family-friendly accommodations and activities nearby.
A few of our favorite places to stay in the Tuscan countryside near Florence:
Borgo Bottaia – A super kid-friendly agriturismo just 10 minutes from Florence city center in Grassina. The property has a range of self-catering apartments with full kitchens and terraces. There is a small kids playground and swing set with a picnic area and a super kid-friendly pool with views to die for.
Salvadonica – A refined agriturismo in San Casciano val di Pese, close to Florence yet in the heart of Chianti country. This family run property is a working vineyard and olive farm with a pool, soccer pitch, and the option to go horseback riding.
Siena and the Crete Senese Region
Siena is another lovely destination for families visiting Tuscany. The city is known for its elegant medieval architecture and the famous Palio horse race that takes place twice a year during July and August. Kids will love exploring the unique architecture and piazzas of the city. The Crete Senese region, just southeast of Siena, is also a nice area for families to stay. The countryside is dotted with charming hilltop towns and vineyards, and there are lots of opportunities for hiking and biking. Just north of Siena, the town of Monteriggioni is a fortified castle town with incredible 360 views of the surrounding countryside. During the first weekend of July, Monteriggioni is transported back to the Middle Ages for a 2-day festival that will captivate the kids' imagination!
A few of our favorite places to stay near Siena:
Hotel Romantik Monteriggioni – Hotel in the historical center of Monteriggioni built into the fortifications of the wall, with a pool and kid-friendly garden overlooking the surrounding countryside.
Castel Petraia – Agriturismo consisting of a fortified hamlet just minutes from Monteriggioni. Family suites and self-catering apartments are available. The property has a pool, bbq area, and kids playground.
Lucca and the Garfagnana Valley
Lucca is a charming walled city in Tuscany that is an excellent base for families with children who want to enjoy being in town, the beach, and the countryside. The city is pedestrian-friendly and car free, with plenty of parks and playgrounds for kids to enjoy. Families can rent bikes and ride along the top of the Lucca city walls, or take a leisurely stroll through the historic center.
Immediately outside of Lucca to the north are the famous Lucca Hills, one of our favorite spots for a villa stay. Further north of Lucca is the Garfagnana Valley, a beautiful area with stunning mountain views and a variety of outdoor activities. Families can go hiking, horseback riding, or even try their hand at rock climbing. The town of Barga is a nice base for exploring the Garfagnana Valley, in an area known for sustainable farming and traditional artisanal food production.
Lucca and the surrounding countryside are also very convenient to some of our favorite beaches of the Tuscan Coast: Lido di Camaiore and Lido di Pietrasanta. The chic seaside town of Forte de Marmi is here as well. From the coast, you can catch a ferry for a stress-free way to see the Cinque Terre with kids from the water, and then return to enjoy a less crowded beach!
A few of our recommendations on where to with kids in Lucca:
Tenuta San Pietro – Luxury vineyard resort in the Lucca Hills
Casa del Campanaro – Historical 3 bedroom 3 bath apartment w/full kitchen and living room in Lucca's city center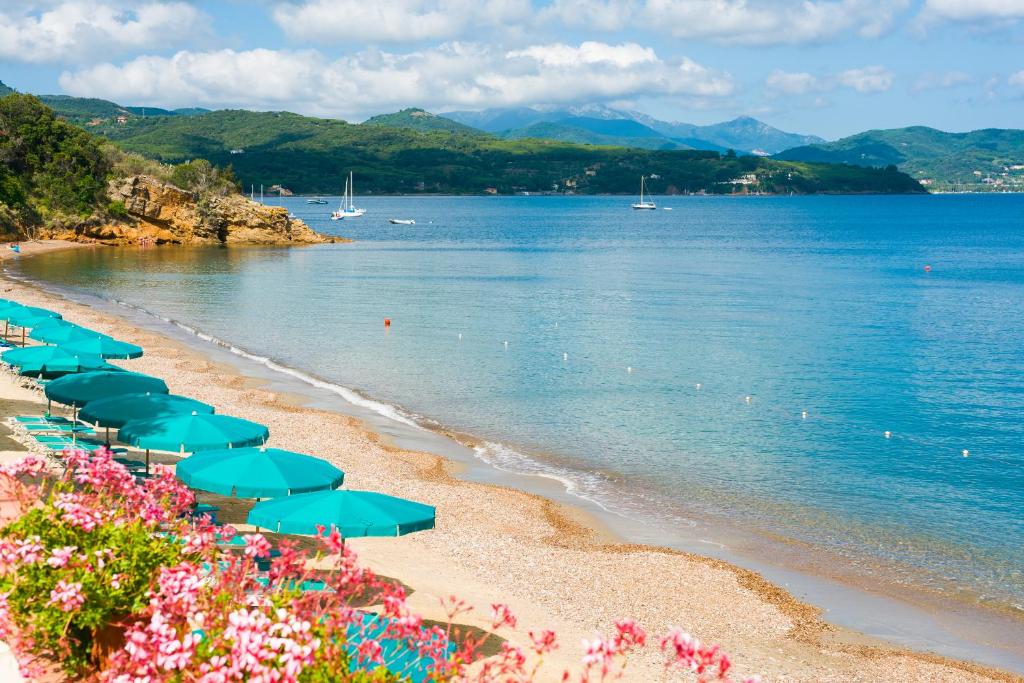 The Tuscan Coast and Islands
The Tuscan Coast is often overlooked by families planning their beach holiday in Italy, which makes the area all the more a wonderful option for families with children. The seaside town of Viareggio has a long stretch of sandy beach and a lively promenade with plenty of restaurants and shops. Families can also take a boat trip to the nearby islands of Elba or Giglio, where they can explore picturesque towns and sandy beaches with crystal clear water's and excellent snorkeling. Further south in the Maremma region, the seaside towns of Orbetello and Porto Santo Stefano are situated in a less developed area of stunning natural beauty, also with very kid-friendly beaches.
One of our favorite family hotels on the Tuscan Coast:
Hotel Villa Ottone on Elba Island is paradise for families! Set on a kid-friendly private beach with pool, restaurant, gardens and a nice variety of family rooms ​​

Add to favorites