Family Guide to Rome with Kids
If you're planning a visit or an extended stay to Rome with kids, ItaliaKids has all the information you need to plan for your holiday or family life. Discover great hotels and holiday rentals, events, childcare services, activities, restaurants, and more. Visit our blog for more helpful tips about visiting Rome with your family.
Featured Sponsor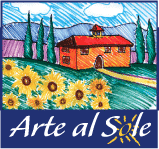 The Arte al Sole kids arts and cultural activity in Rome offers a range of options for Spring and Summer art workshops and day camps in English, with locations in the center of Rome. Arte al Sole offers exceptional Rome art workshops for kids throughout the year, and a Rome Kids Camps during spring break and summer , a great opportunity for kids ages 6-12 to meet international friends and hands-on experience the majestic beauty and history of Ancient Rome.