"The way you help heal the world is you start with your family." -Mother Teresa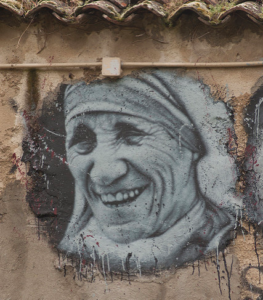 The Canonization of Mother Teresa in Rome
Many of our readers are in Rome on holiday this season, where on Sunday, September 4, they will experience history in the making as the Catholic Church celebrates the canonization of Mother Teresa as "Saint Teresa of Calcutta." If you are visiting Rome with your family this weekend, be sure to factor in to your plans the crowd measures the city of Rome is taking to manage the event.
Any family holiday in Italy means kids and parents will be "seeing the Saints" all around them, in the art and celebrations at the heart of Italian culture. Understanding the canonization of Mother Teresa is a great opportunity to discuss the phenomenon of sainthood in history, which will enliven the experience of Italy for the whole family.
The Life of Mother Teresa for Kids
The biography of Mother Teresa is a captivating one for children, who are oriented toward believing in heroes, and enjoy hearing stories of generosity and good deeds. As parents, sharing hero stories help us to orient our child toward hope, empathy, mercy, and a belief in something bigger than oneself.
Mother Teresa was a nun from present-day Macedonia who dedicated herself to helping others in need. For this work, she was known as a humanitarian. When she was only a child in elementary school she felt called by her spiritual beliefs in the Catholic Church to help others, and went on to dedicate her life to this calling when she became a nun in India. Mother Teresa taught in an all girls school in Darjeeling for 15 years. At the age of 36 she felt she wanted to contribute to a bigger purpose and embarked on a journey to help others in the streets of India. She dedicated herself to feeding the poorest of the poor, those who were not loved or sick. Step by step, and in the face of many challenges, she expanded her work.
In 1950 she created an organization called the Missionaries of Charity with a group of 13 nuns.  Today the Missionaries of Charity help the neediest of the world across the globe and is run by over 4,000 nuns. In 1979, she received the Nobel Peace Prize honoring who work improving conditions for the poor and helpless. She requested that the money for the Nobel Peace Prize award ceremony banquet be used to feed the poor instead. As a nun, Mother Teresa swore an oath to live a life of poverty. This means that she had no money. It did not take money to create great things. With only her love to give, she changed the lives of many, as little by little she gave her love to those who needed it the most.
How Did Mother Teresa Become a Saint?
The path to sainthood in the Catholic Church is a long one, with strict rules for consideration. The process begins with a local church official going to their Bishop and nominating someone for sainthood who has demonstrated an exceptional life of humanitarian deeds dedicated to God. The Cardinals who are members of the Vatican's "Congregation for the Causes of Saints" review the request and if they approve it, the petition will move up to the Pope for his consideration. If the Pope agrees, the person moves to the level of "beatification." This is usually determined only when a miracle is connected to the holy person after their death. In 2003, Pope John Paul II approved the reported miracle that occurred after Mother Teresa's death when a woman in Calcutta prayed to her to heal her illness, and she was cured. In March 2016, Pope Francis confirmed another miracle reported from Brazil, where a man was also cured of illness after calling upon Mother Teresa in prayer. With two reported miracles confirmed by the church, Mother Teresa was canonized as a saint. Saints are commemorated on their Feast Days, which are traditionally held on the saint's birthday. For Mother Teresa, this is September 5.
Who Are Saints?
Saints are considered role models for people on earth, who the Catholic Church has confirmed are in heaven and can help us when called upon to do so in prayer. Understanding the lives of the saints provides an opportunity for families traveling in Italy to talk about how they feel about the acts of heroism, generosity, and mercy that are celebrated on Feast Days and in art as examples for how to live our own lives.  Asking children thought-provoking questions as they experience the lives of the saints in Italian culture can lead to self-reflection, and lend a deeper meaning to the art and celebration families are experiencing. Fun questions to consider as a family might be:
Ask your child to consider who their patron saint might be while viewing Medieval and Renaissance art in Italy? What attributes or values appeal to you? How are these represented in the art, or what types of deeds and celebrations do you see saints depicted in?
Saints are role models who are spiritually compelled to act on behalf of someone. Mother Teresa's led a life of mercy, spreading and encouraging charitable acts among the most needy. Ask your child to consider if they have a role model in their life, such as a teacher? What types of things did the person do to make them a role model? How did they help others?
What challenges did the saint face in their own life, and how did overcoming this challenge become a source of their strength and leadership? What challenges have you faced, and how did that affect your own views toward the challenges of others?
Author Shannon Kenny is the Founding Editor of Italiakids.com and Director of the Arte al Sole kids art programs in Italy. She also runs the Elaia Travel Italy trip planning concierge.
Photo credit: Thierry Ehrmann (Creative Commons), Max

Add to favorites