This guide to how to buy vaporetto tickets in Venice helps travelers understand which of the many options for buying tickets is best for them. Planning your transportation in Venice in advance can help you avoid costly and time-consuming mistakes.
In Venice, the public transport option is a water ferry called a vaporetto. Understanding how to get around Venice and how to buy vaporetto tickets once you arrive can be confusing, as there are several options for where to buy them and a range of different ticket types. Planning the best way to buy your tickets before you go can help travelers avoid costly and time-consuming mistakes. This guide presents the different options according to how long you will be in Venice, how often you intend to use the vaporetto, and where the most convenient places to buy the tickets are for your particular itinerary.
Where to Buy Vaporetto Tickets in Venice
There are four options for buying vaporetto tickets in Venice:
1. Self-service ticket machines at major ACTV docks in Venice, including kiosks at the airport
2. ACTV ticket windows at vaporetto docks in Venice
3. From the vaporetto conductor after you board the waterbus 4. With the MyPass Venezia app or the AVM app
Which Vaporetto Tickets Should I Buy?
There are three main options for visitors to buy vaporetto tickets:
1. Standard Tickets: These are for single-use travel on vaporetto routes for up to 75 minutes. The cost for each ticket is 7.50 euros.
2. Tourist Travel Cards: These are multi-day passes for unlimited travel on the vaporetto lines. The cost for these passes is:
1 day = 20 euros
2 days = 30 euros
3 days = 40 euros
7 days = 60 euros
3. Venezia Unica Tourist Pass: The the Venezica Unica Tourist Pass is an option for non-residents who are frequent users of the vaporetto. You must purchase the pass for an initial fee of 50 euros from the Venezia Unica ticket kiosk (you will find one at Piazzale Roma). The pass is a stored-value card that you can top up with either resident fares for the single use tickets at the rate of 1.50 euro instead of 7.50 euro or a monthly unlimited pass.
Airport Bus Supplement: Additionally, you have the option of adding airport transportation on the No. 5 "Aerobus" operated by ACTV, which operates between Marco Polo Airport and Venice's Piazzale Roma.Thee cost is an extra 6 euro one way and an extra 12 euro for RT to the airport.
Youth Discounts:There is also an option for discounted tickets for youth, the Rolling Venice card for youth ages 14-29. This card provides unlimited ACTV waterbus and land bus travel within Venice for a total of 26 euro. You must purchase the card for 4 euro, and then add the 22 euro for the 3-day pass. The card can be purchased at the kiosks selling the Venezia Unica card.
Avoiding Mistakes When Buying Vaporetto Tickets
The descriptions of the above vaporetto ticket price options from the self-service ticket machines can be confusing as they are translated in multiple languages. Here is a guide to which options to select:
1. Select "Buy Your Ticket"
2. For vaporetto (waterbus) tickets only (the service along the Grand Canal), select "Waterborne Service." For the vaporetto pass plus the airport bus supplement, select "Aerobus one way" or "Aerobus return ticket." For only the bus service to or from the airport, select "Bus service."
3. Next, select which ticket type you need. If you want only a single vaporetto ticket (at a cost of 7.50 euro), select "Ordinary water service 75′." For the day and multi-day passes, select 1-, 2-, 3- or 7-day tourist ticket.
4. Finally, select the number of the type of ticket you want to buy. For example, if you want 2 single tickets at 7.50 euro each, press the + symbol to add another ticket.
Example of single use ticket: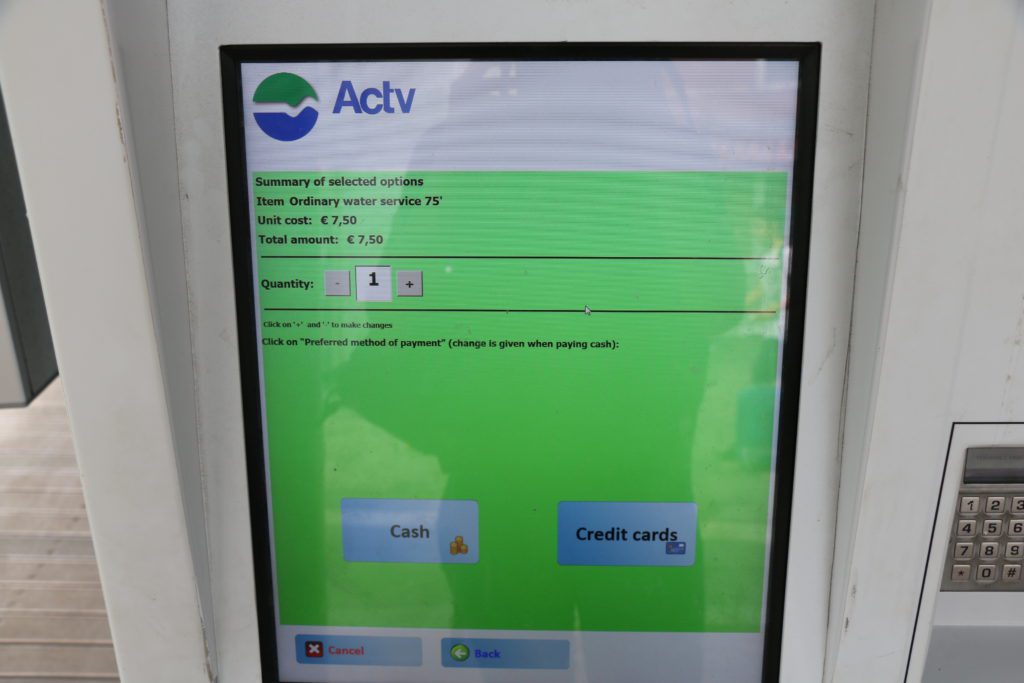 Example of pass ticket:
Read Next:
How to Get from the Train Station to Venice City Center

The 10 Best Children's Activities in Venice

Add to favorites