Fairy tales inspire when hiking in the Cinque Terre with kids
While traveling in Italy this spring, our family's destination for an active, outdoor vacation was a dramatic stretch of Italy's Ligurian coast known as the Cinque Terre. The five charming villages clinging to the cliffs that give the region its name (Cinque Terre means "five lands") were built around the 11th century and for centuries were accessible only by boat or by footpath.  Families do need to plan carefully to experience kid friendly Cinque Terre as the terrain is varied. Hiking between the villages is still the best way to discover the terraced vineyards, the lemon trees and olive groves, the scents of rosemary and lavender, and the tiny clusters of multicolored houses in this unique region. Since the hiking trails vary in difficulty, length, and beauty, it is particularly important for families with kids to choose their itineraries carefully.  We hiked three very different trails with our two kids, ages seven and nine, when we visited in late April. Inspired by Goldilocks, we came to name these separate hikes "too easy,"  "too hard," and "just right."  The most popular trail in the Cinque Terre, called Footpath No. 2 or the Blue Trail, is a 13 km (8 mile) path that winds through all five villages and can be completed in about five hours.  For a shorter, more kid-friendly experience, take advantage of the ferries that run between the villages, or take the advice of our kids and hike the trail that is "just right."
Too Easy: Between Riomaggiore and Manarola
The flattest part of Footpath No. 2 is a walk of less than an hour between the villages of Riomaggiore and Manarola. Although this is an easy walk with kids of all ages, it is also the least attractive part of the trail, and we would have been very disappointed with the Cinque Terre if that was all we saw.  Motivated by the jokes my husband and kids were making about the graffiti inscribed concrete tunnel along via dell'Amore (Path of Love), I decided we would try a more ambitious hike the next time.
Too Hard? Manarola to Corniglia and Inland back to Riomaggiore
The uphill sections, the series of stairs to climb, and the lack of shade on much of the trail make this trek difficult. If your kids are enthusiastic, strong hikers, and the day is not too hot, this "too hard" hike could be ideal.  The rewards of this less traveled interior hike (approximately three hours in length) are fewer crowds, and stunning views of the sea as you wander the terraced hillsides planted in grapevines and olive trees.  From Manarola, we hiked on for lunch in Corniglia, a peaceful village perched on a cliff above the sea (reached by steep stairs), and then turned inland for a beautiful, but difficult interior trek, ending our day by circling back to Riomaggiore.
Just right: Vernazza to Monterosso

Two days later we took the ferry back to the Cinque Terre from our rented villa in the town of Portovenere, for what was to be our favorite hike of all, an approximately two hour walk between the villages of Vernazza and Monterosso.  This trail is ideal for families who are used to hiking but don't want to hike all day .  Although it was much less arduous than our inland hike, the landscape was similarly varied, revealing stunning ocean and cliff views as well as some of the inland agricultural area.  We began our walk in Vernazza, a village with a pretty harbor, after first eating a delicious and satisfying lunch of seafood with gelato for dessert.  Fortified by the good local fare, we hiked along a trail that delighted us with little bridges over streams, olive groves interspersed with low stone walls, and views of the cliffs with the sea beyond.  Approximately two hours later we finished our hike in Monterosso, where the kids celebrated by going to the beach—the nicest beach in the five villages—before catching our ferry back to Portovenere.
Practicalities:
The Cinque Terre is a national park, and entrance fees are charged to walk between the towns.  Each town sells passes. The €5 Cinque Terre Card is good for one day of hiking (€8/2 days, €10/3 days, €20/7 days.  The passes come with a map which gives the elevation and duration of each hike.
Where to stay
Agriturismo Buranco in Monterosso is a delightful family-friendly place to stay in Cinque Terre. It is a working farm and vineyard with a great restaurant. A kid-friendly beach is walking distance. There are family rooms and an apartment that can sleep up to 6. This is the nicest beach in the Cinque Terre for kids.
We stayed in the family friendly yet sophisticated seaside village of Portovenere.  We enjoyed the stunning approach by ferry (about an hour) to the Cinque Terre, and found Portovenere less crowded than the five villages. The Grand Hotel Portovenere is a nice option for families, with family rooms that can sleep up to  4 guests.
Where to eat
Portovenere
Bacicio, Via Giovanni Capellini, 17
Ristorante Le Bocche, Calata Doria 102
Corniglia
La Posada, Via Alla Stazione 11
Vernazza
Gianni Franzi, Piazza Marconi, 5
Riomaggiore
Trattoria la Lanterna, V. S. Giacomo 46, off V.C. Colombo
Ferries
There are two ferry lines along the Cinque Terre Coast.  The Golfo dei Poeti ferry service offers six daily departures from Portovenere (east of Riomaggiore) and stops at each of the Cinque Terre villages, except Corniglia.
Time tables and tickets are available here for Cinque Terre Ferries.
From mid June to mid September, the Golfo Paradiso Cinque Terre Ferry Line runs from Genoa and Camogli to Monterossa al mare and Vernazza.
Ferry tickets range from 4-14 euro RT
Author Alexandra Regan is a librarian and travel writer who currently lives in France.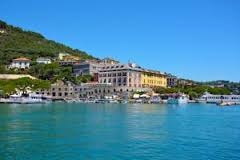 The Grand Hotel Portovenere is an Italiakids.com favorite as a base for visiting the Cinque Terre area. On the lively promenade near a family-friendly beach, visitors can easily access the Cinque Terre villages by ferry. The hotel offers a range of triple and suite rooms for families, as well as adjoining doubles.
For more Italy family travel tips, see How to Visit Cinque Terre with Kids
Plan Your Trip
Use our Italy Trip Planning Tool to create an account for your own personal Italy family travel inspiration. Save this article along with other information of interest so that you can gather all of your Italy with kids research in one place. For assistance with planning your trip through our Italy Trip Planning Concierge, please contact us.

Add to favorites